Lance Oliver
Freelance writer, editor and translator
Welcome to coffeericeandbeans.com, my corner of the web.
Let's cut to the chase: this is one of the best motorcycle books that I have ever read.
»Willie McLandsborough, Motorcycle Sport Touring Association STAReview
§§§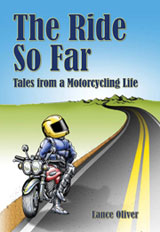 This collection of my motorcycling stories, published by Whitehorse Press, seeks the essence of what makes motorcycling so much more than just a way to get from here to there.
See more at www.theridesofar.com, including my motorcycle blog, "The ride continues."
I am a full-time freelance writer, editor and translator with prior experience in the news media and with a national, non-profit membership association. Since 2001, I have specialized in writing for the motorcycle press on a wide range of topics including industry trends, legislative and safety issues, travel stories and product evaluations. Currently, I am managing editor of original content for RevZilla, a fast-growing motorcycle gear e-commerce company. For more motorcycle-related content, be sure to see my book and blog.
As a translator, my clients include the Puerto Rican Endowment for the Humanities and Banco Popular, the largest bank in Puerto Rico, which also has branches in five states and the U.S. Virgin Islands. In addition to my translation and editing work for Banco Popular, I have additional experience editing materials on investing and finance for clients such as Argus Research, an independent research firm covering Wall Street. At the other end of the spectrum, I've taught English as a volunteer in a rural high school in Costa Rica.
"Variety is the spice of life," goes the cliché, but the cliché has it wrong. Variety is the main ingredient.